---
All the latest news, info and pictures on the great man... but the search for 'El Pel' continues so any new information, news or pictures of the football genius would be most welcome ..... we have also found a web site dedicated to the great man, it's called WeLovePerry, give it a visit !!!
---
Now Perry Makes the Top5
On Radio 5 Live 'Chiles on Saturday' Program
On driving up to Manchester for the ManYoo/Arse Cup tie I was listening to the very good Chiles on Saturday program on 5Live. For those of you who don't listen (you should), each week they do an 'amusing/quirky top10' and this particular week it was the top10 unknown legend's... and yes you've guessed it at number 5 comes our hero Perry Groves... well done Pel.
According to the research done on the program our Pel has more internet site dedicated to him than either Charlie George or Liam Brady!!!!!... although our great (!!) site was not mentioned (I must send 5live e-mail about that!!!), the 'We Love Perry' site certainly was....
Unfortunately the 'unknown' part was rather let down by the fact studio guest Bill Beaumont admitted that he did actually remember our Pel, the only one of the Top 10 he (or I come to that) had ever heard of.......
---
Perry's Program Interview
Spotted in the Arsenal program (v's Schalke Sep2001), an interview with the great man...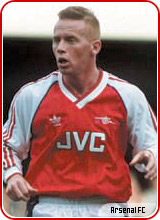 Perry is now working in the marketing and distribution trade
Firstly Perry, how did you get into professional football? From 14 to 16, I was on Wolverhampton Wanderers' books as an associated schoolboy but they told me to clear off, they didn't think I was good enough. So then I went for trials with most of the East Anglian clubs, Ipswich, Norwich, Luton, Colchester and Peterborough United and just decided that whoever offered me an apprenticeship first I would take. And it was Colchester manager Bobby Roberts who gave me a two-year apprenticeship. They were in the old Fourth Division at the time and as is always the case, three weeks later Luton asked me to go back. But, I had already signed and although I wanted to play at a higher level my dad told me I would have more chance in a smaller squad. He said I could be in the first team by the time I was 18 instead of scratching about in a First Division club's youth team.
As it happens I was in Colchester's first team before my 17th birthday and was doing well until Cyril Lee took over as manager. Obviously he was a visionary because he rested me for a year! Looking back he obviously rested me because he knew I was suffering from a burnout. That's the way I like to look at it anyway!
You survived to establish yourself in Colchester's side and attract the attention of several big clubs including Arsenal. That must have given your ego a boost?
Yeah...It was strange. I had asked for a transfer because I wanted to test myself basically and was going to sign for Crystal Palace. They had offered £40,000 and it is really weird because I got a phone call from Ian Evans, who was the coach at Palace, and he said they were looking at a lad called Iwan Wright, it was Ian Wright, who they were going to get from non-League.
The following day I got a call from my financial adviser to say don't sign for them because Arsenal had made a bid of £75,000 that had been accepted and I was going up to see George Graham on Friday.
How did that interview go? 'Hello Perry. My name's George' 'Hello Mr Graham.' 'We have been watching you for a while and like the way you play. We can offer you this, we can offer you that. That's it, take it or leave it.' There was no negotiation. A young lad coming up from Colchester hasn't got too many cards to play has he? It was sign here. So I said thank you very much and became his first signing which was flattering really. George had tried to get me for Millwall but was told to get lost when he offered £10,000
It must have been thrilling for you. It was. I was confident in my own ability but it was a massive jump from the Fourth Division and a big club like Arsenal. But I knew it was a lifetime opportunity I would never get again. Advisers had suggested I join a Second Division club but they had to be joking. Football doesn't work like that you can be injured or lose form. I had to go, there was no choice to be made.
Were you at all apprehensive as you reported for your first day's training? No, I was just very excited. I mean rubbing shoulders with people I knew from watching them, like Viv Anderson, Charlie Nicholas and Graham Rix. Then I turned up in the car park in an old MG GT with smoke coming out the exhaust, they must have thought who the hell is that country bumpkin? But I just wanted to play. If I had gone there in awe of them I wouldn't have had any chance.
George had told me he had not bought me to play in the first team that year but for the future and was not looking for anything from me until I had settled down. But because Rixy was injured I got a start within the first few weeks at Nottingham Forest and was in the first team.
Did you forge any special friendship while you were here? Paul Merson was my special buddy. He was a young kid weighing about three-and-a-half stone, spotty, and the kit was like miles too big for him. He had just graduated from the youth team into the reserves and the first few reserve games I played he was sub. We struck up a great rapport with each other and with the other lads about my age, like Tony Adams, David Rocastle, Tommo, Martin Hayes and Quinny.
Is there one game you can highlight from your Highbury career? Blimey...The Littlewoods Cup Final in '87, against Liverpool. I came on for the last 25 minutes and made the goal for Charlie that won us the cup. So I had gone from a Fourth Division player at the beginning of the season to a Wembley winner. It was funny, Kenny Dalglish came on at the same time as me and everyone expected him to win it for Liverpool. But here I was, a ginger haired nobody, setting up the winning goal. So it worked out well.
You must have gained a lot of satisfaction from your career at Arsenal. Yes, my whole family are Gooners. My dad's uncle, Vic Groves, played for Arsenal in the 1950s with Tommy Docherty, Dave Bowen, and Jack Kelsey, so the family is steeped in the Arsenal tradition, and I grew up as a Gooner. I always wanted to play for Arsenal so to achieve that was tremendous for the family. As for the fans I was up and down with them. They either loved me, or hated me there was no in-between.
Who do you admire most in the current side? It has to be Tony Adams, and that's not because I have played with him and shared a few nights out with him. But he is an absolute legend. Even when he was 22 he was a big star playing for England and winning awards. But Tony is the most approachable and affable person of that level of fame that I have come across. He is just so down to earth and such a nice lad basically.
Can we win the Championship this season? Yes, they will definitely be in the top three and if you are there you have a chance.
---
On Sky Sports...
I spotted this whilst trawling through the 'Where are they now' feature on Sky Sports… Its good to see our hero is remembered by others too…however a bit more info would have been useful…there wasn't even a picture !!!
PERRY GROVES
(Colchester United, Arsenal, Southampton, 1982-1992)
Perry spent 5 seasons at Colchester United before joining Arsenal in 1986. He helped Arsenal to become the Football League Cup winners in 1987 and played a total of 246 career games, scoring 48 goals. Perry is now 35 and working as a travelling salesman.
Requested by Michelle Benge, London
---
The London Masters 2000
Perry was spotted playing in the 'London Masters' (July 00) for an over35 Arsenal team. It would appear the great man has lost his 'tin tin' hair, but none of his ability ...... he helped Arsenal win the tournament and even scored a goal against Spurs ....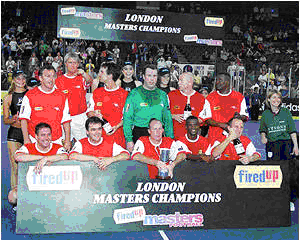 ---
That Goal...
The great man is in the picture for probably the most famous goal of all ...... can you spot him, there he is in the background getting ready to celebrate..
---
Celebrating the Championship
Here he is again on the memorable night (well for all Arsenal fans) ..... with his hands on the trophy!!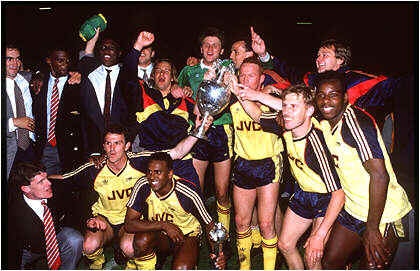 ---
Perry's Cup Final
Back in 87, probably his biggest contribution to Arsenal, setting up Charlie's winner ..... and in the picture, with his hands on the trophy again !!!!!!!!!!!